Ultrasonic plastic welding machine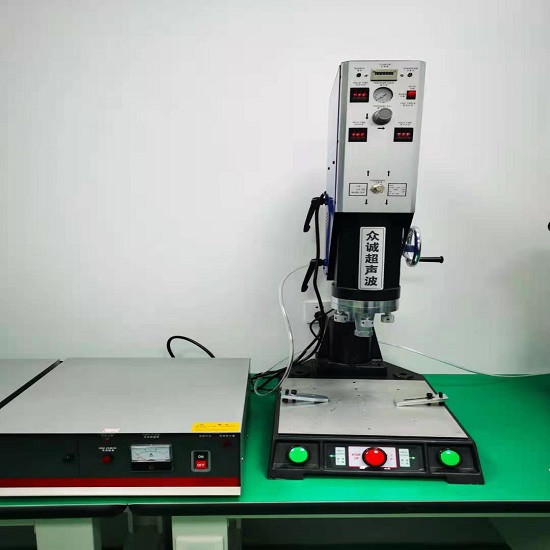 Ultrasonic Plastic Welding Machine -- 15KHZ-2600W
I. Product Description:
It can be welded, riveted and buried by shock, with the function of level adjustment, easy to calibrate the mold of the workpiece, with the protection of current overload, can cooperate with the automatic system, fast delivery and beautiful quality.
Two, the machine features:
1. Pneumatic components consist of air valve, cylinder, pressure gauge, solenoid valve, etc.
2. Single column hand lifting fuselage, easy operation, high strength.
3. Domestic high quality piezoelectric ceramic transducer, strong and stable output, durable.
4. Frequency automatic compensation circuit.
5. Free power adjustment, strong frequency tracking
6. Adopt welding head horizontal adjustable structure, convenient mold adjustment
7. Stable use and high welding efficiency
8. Delay time setting, can adjust the vibration time
9. Welding time setting, welding time can be adjusted
10 hardening time setting, you can adjust the end of the vibration at the melting place of the cold setting time.
11. Counter, working shield ring times record, with zero pressure buckle.
12. Adjustment and pressure gauge: for indication and setting of working pressure.
13. Sound wave adjustment, adjust the vibrator efficiency to achieve the ideal working state.
14. Amplitude table, indicating the working amplitude of the load.
15. Power switch and power indicator, control circuit and power indicator.
16. Selector switch for automatic and manual operation and for acoustic no-load check.
17. Sound wave output adjustment, sound wave output number for the setting.
18. Sound wave overload light, indicating that the overload of sound wave is abnormal and need to make sound wave adjustment.
19. Air purifier, air pressure work of gas filter water.
III. Work Features:
Fast ---- each welding time 0.1-3 seconds.
Strength ---- can withstand large tension, high pressure.
Quality ---- no water leakage, no air leakage, can be airtight welding.
Economy ---- need not screw, glue. Reduce labor and low cost.
Four, product features:
Domestic high quality piezoelectric ceramic transducer, strong and stable output
Frequency automatic compensation circuit
Lifting adopts linear bearing with high accuracy
The whole machine gravity casting molding, high precision, beautiful appearance
Adopt welding head horizontal adjustable structure, easy to adjust the mold
Stable use, high welding efficiency
Handle type lifting, more convenient to use, more favorable price
V. Basic parameters:
Equipment model: 15KHZ-2600
Output power: 2600W
Equipment frequency: 15KHz
Output voltage: AC (single phase) 220V
Fusion time: 0.01 -- 9.9 SEC
Welding head stroke: 75MM
Cylinder diameter: 63MM
Oscillation system: Route line
Output TIME: Fuji Time Control "Fuji" TIME CONTROL 0.01 -- 9.9 SEC
Current indication: output amplitude indication
Air pressure; 0.1-0.8 MPA
Appearance dimension: 650×410×1160 (unit: mm)
Weight: about 100KG
Note: Ultrasonic mold is made of aviation magnesium and aluminum alloy.
Send Inquiry :
Related Products :
Contact Us
Name: Zhu
Mobile: 13961854375
E-mail: [email protected] [email protected]
Add: 9th Hexin road,Xishan district in Wuxi city,Jiangsu province,CHINA(214101)
Wechat: 13961854375
Skype: [email protected]
QQ: 252909803